Ana Navarro claims each of 'The View' hosts could beat up House Speaker McCarthy: We could 'kick his butt'
The "View" co-hosts' antipathy for House Speaker Kevin McCarthy, R-Calif., turned into joking about violence toward the lawmaker on Friday.
The co-hosts of the ABC daytime talk show insisted that McCarthy's crossfit-trained colleague Rep. Marjorie Taylor Greene, R-Ga., could "probably kick his butt," with co-host Ana Navarro concluding that she and her co-hosts could do the same.
The segment started off withe panel ridiculing the newly-minted Republican House speaker for putting the congresswoman on various important congressional committees. 
WHITE HOUSE CALLS SPENDING BILL VOTE A 'MAJOR TEST' ON WHEHTER HOUSE GOP IS 'READY' TO GOVERN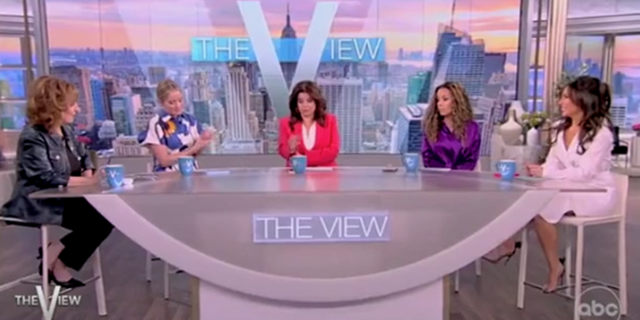 Joy Behar framed the topic, saying, "Speaker Kevin McCarthy assigned [Greene] to the Oversight and Homeland Security committees even though she's an election denier who said the January 6th insurrection would have worked if she was in charge. He also put her on the COVID subcommittee despite the fact she's an anti-vaxxer."
Behar asked, "Who would be better at this than an anti-vaxxer?" before lamenting, "This is the country we live in right now. McCarthy made it clear he has her back, saying, 'He'll never leave that woman, ever.' So I say to my panel, why is this idiot hitching his star to this clown?"
Navarro promptly answered the question, noting how desperate McCarthy was for votes: "Because it took him 15 damn votes to become speaker and he needed every single one."
HOUSE GOP ACCUSES MCCONNELL OF SELLING IT OUT WITH YEARLONG BUDGET DEAL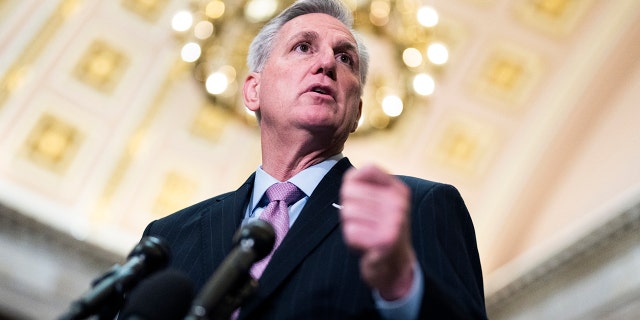 Navarro then harped on the rough political fortunes she believes McCarthy has found himself in, including having Rep. George Santos, R-N.Y., in Congress as well. "It's not a hard question to answer. Listen. Kevin McCarthy is saddled with the likes of pathological lying George Santos and conspiracy theorist Marjorie Taylor Greene," she said.
"Santos is on committees, too," Behar interjected, seemingly shocked that the lawmaker who has been accused of lying on his résumé and throughout his congressional campaign has such responsibility.
Navarro explained, "That's my point, Joy. Kevin McCarthy does not have the luxury of throwing these people out," adding that "he's stuck with these insane people."
After some debate as to why McCarthy would put up with Greene — Navarro asserted that it's because congressional Republicans agreed to the fact that "one congressman can push a vote to get him out" ­— co-host Sunny Hostin offered that Greene would physically dominate the speaker.
CLICK HERE TO GET THE FOX NEWS APP
Hostin said, "She was a crossfitter. She owned a crossfit gym. She could probably kick his butt, too. So he's probably a little afraid of her. She's a big lady. She's muscular. It's just a theory." The studio audience found the quip very amusing.
Then Navarro chimed in, saying, "Listen, I don't know, my theory is any of us could kick his butt." That statement elicited chuckles from the rest of the panel.