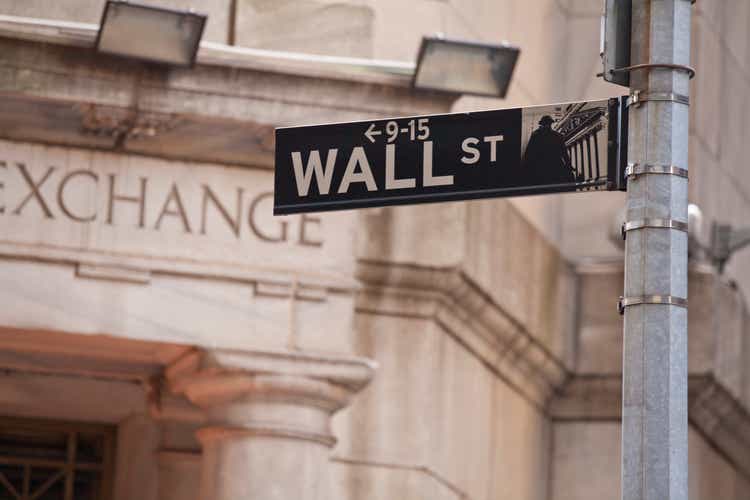 Money managers have not been this pessimistic on U.S. stocks in more than 17 years, but global recession fears have peaked, according to the latest survey by BofA Securities.
The January Fund Manager Survey of 286 panelists with $772B in assets under management out Tuesday showed the biggest Underweight on U.S. stocks since October 2005.
But while "the humans are still bearish" they are "a lot less bearish than in Q4," with optimism on China and the Fed pushing cash levels down to 5.3% from 5.9%, the biggest drop since June 2020, strategist Michael Hartnett wrote in a note.
Fund managers are overweight cash (VMFXX) and bonds (SHY) (TBT) (TLT) (JNK) (LQD) (BNDW), but are underweight global stocks (URTH).
January saw rotation into emerging markets (EEM) to their biggest Overweight since June 2021 and cash also moved into eurozone stocks (SPEU), the first Overweight since February 2022, Utilities (XLU) and Industrials (XLI) and out of Healthcare (XLV) and Tech (XLK) (XLC), Hartnett said.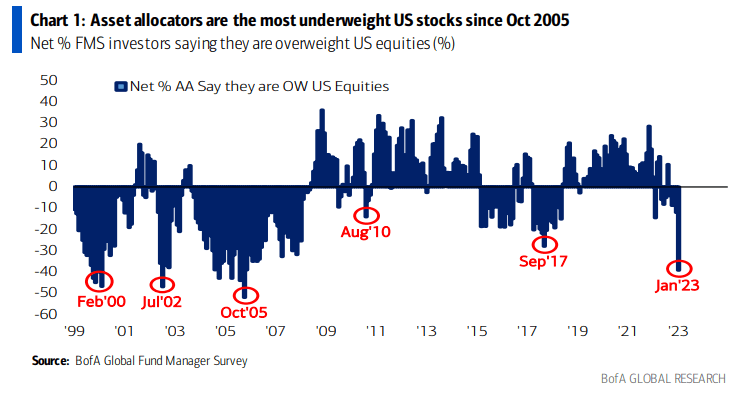 Recession fears peak
"Expectations of recession peaked in Nov'22 at 77% and have fallen to 68% in the Jan FMS," Hartnett said. "Note prior peaks in recession fear were big turning points in asset prices."
Fund manager year-end targets are 3.6% for the 10-year Treasury yield (US10Y), S&P 500 (SP500) (NYSEARCA:SPY) at 3,900 and bitcoin (BTC-USD) at $15,500.
The top three tail risks remain the same, with inflation remaining high at the top with 34%, followed by a deep global recession at 20% and central banks staying hawkish at 19%.
Among the most crowded trades identified, long U.S. dollar (DXY) (UUP) is still at the top and long ESG assets (BGRN) (SNPE) (ESGU) is second. But long China equities (MCHI) is a new entrant in the third spot.
See Goldman Sachs' top picks for return on equity.